LinkedIn has become a great business ally for many since its birth. There are still people who doubt what LinkedIn can bring to the table. After all, why be on LinkedIn when others have billions of members or have the ability to interact with people freely.
But there are those who have seen the value, ability and power LinkedIn has for their professional and business growth.
Below are some of what some of them have to say. Which you can use as a subconscious reminder whenever you build your marketing strategy.
A new way to improve a business's sales performance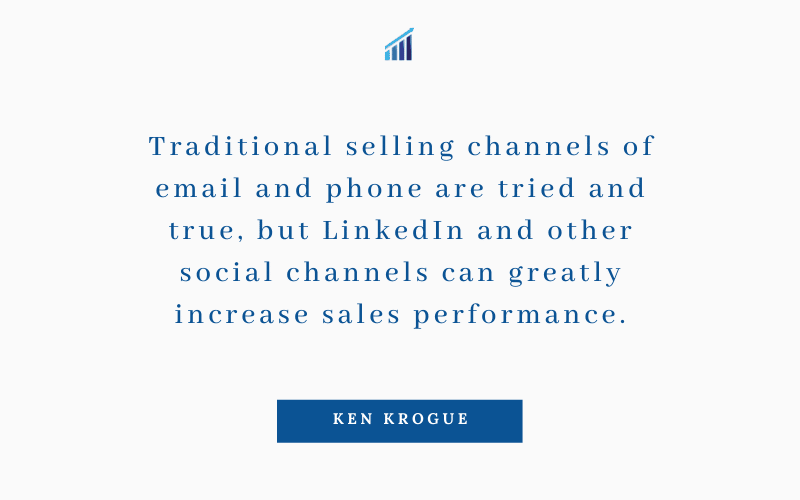 "Traditional selling channels of email and phone are tried and true, but LinkedIn and other social channels can greatly increase sales performance."
― Ken Krogue, Co-Founder & President at InsideSales.com
A great partner for start-ups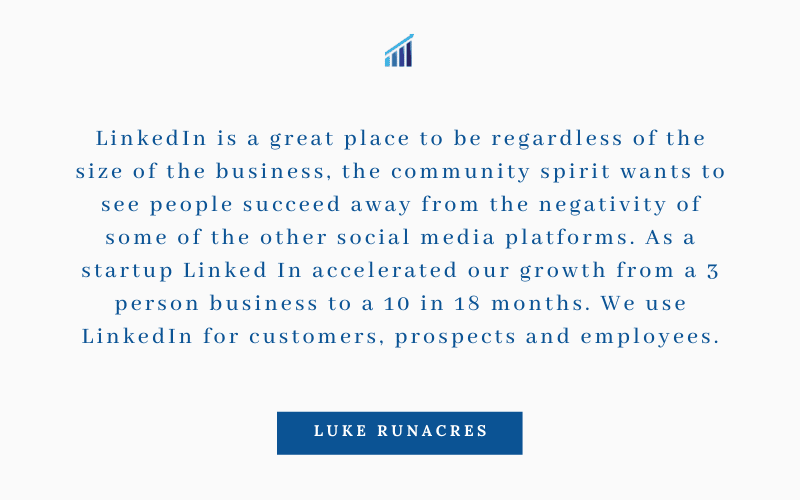 "LinkedIn is a great place to be regardless of the size of the business, the community spirit wants to see people succeed away from the negativity of some of the other social media platforms. As a startup Linked In accelerated our growth from a 3 person business to a 10 in 18 months. We use LinkedIn for customers, prospects and employees."
― Luke Runacres, Director at Leadzoom
What makes networking great on Linkedin?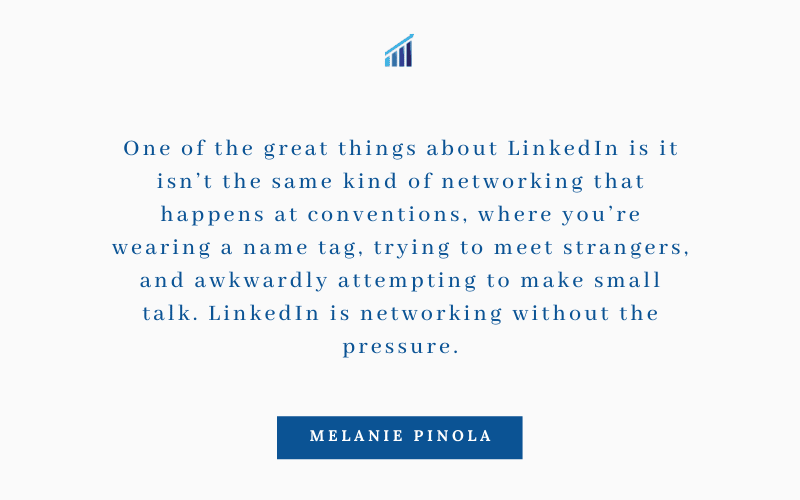 "One of the great things about LinkedIn is it isn't the same kind of networking that happens at conventions, where you're wearing a name tag, trying to meet strangers, and awkwardly attempting to make small talk. LinkedIn is networking without the pressure."
― Melanie Pinola, LinkedIn In 30 Minutes: How to create a rock-solid LinkedIn profile and build connections that matter
What makes LinkedIn Different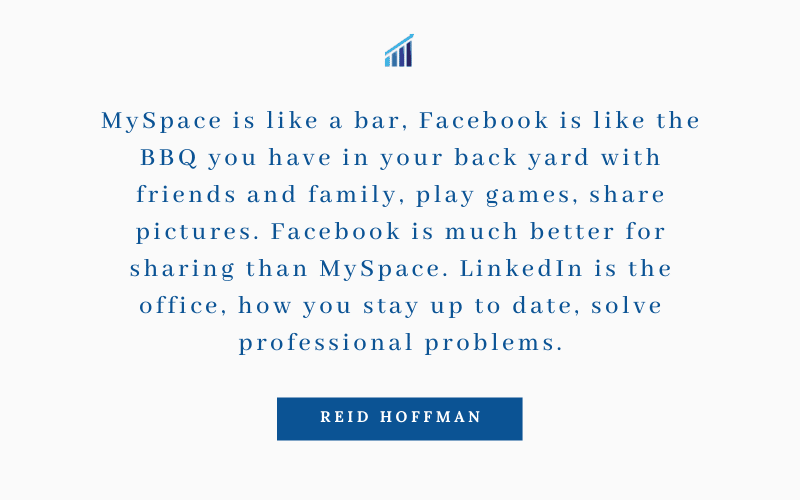 "MySpace is like a bar, Facebook is like the BBQ you have in your back yard with friends and family, play games, share pictures. Facebook is much better for sharing than MySpace. LinkedIn is the office, how you stay up to date, solve professional problems."
― Reid Hoffman, LinkedIn's Executive Chairman
LinkedIn's Business Opportunities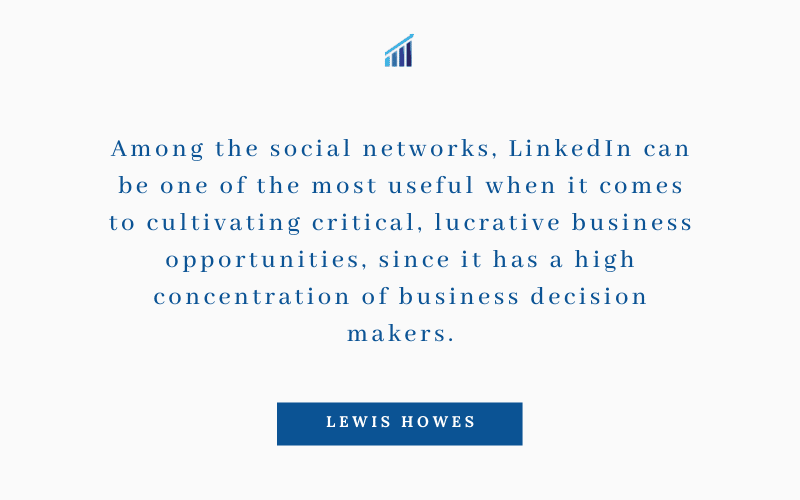 "Among the social networks, LinkedIn can be one of the most useful when it comes to cultivating critical, lucrative business opportunities since it has a high concentration of business decision-makers." 
― Lewis Howes, Author
How to get yourself notice on LinkedIn?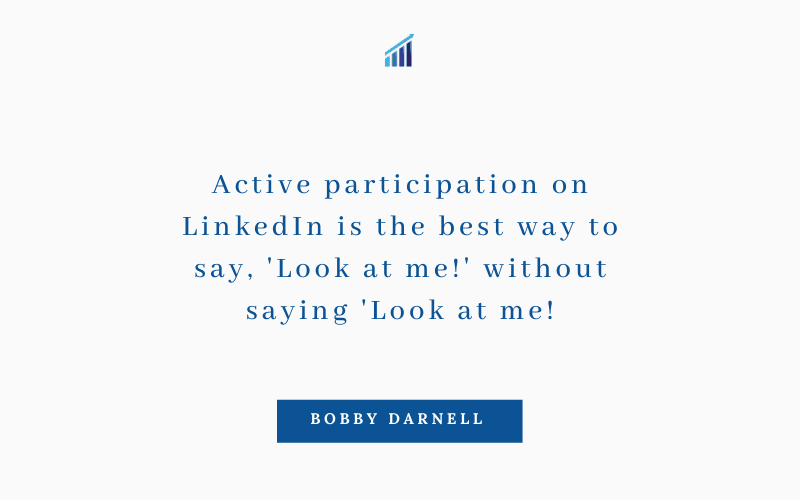 "Active participation on LinkedIn is the best way to say, 'Look at me!' without saying 'Look at me!"
― Bobby Darnell, principal of Construction Market Consultants
Being active on LinkedIn is key to success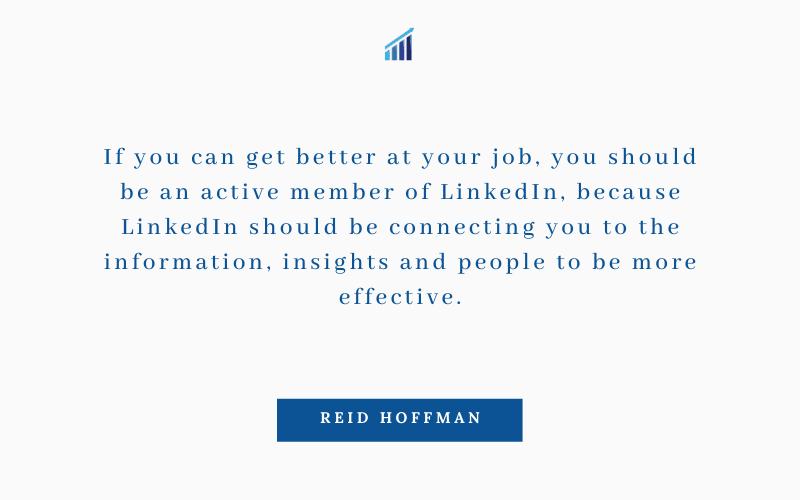 "If you can get better at your job, you should be an active member of LinkedIn, because LinkedIn should be connecting you to the information, insights and people to be more effective."
― Reid Hoffman
Reminder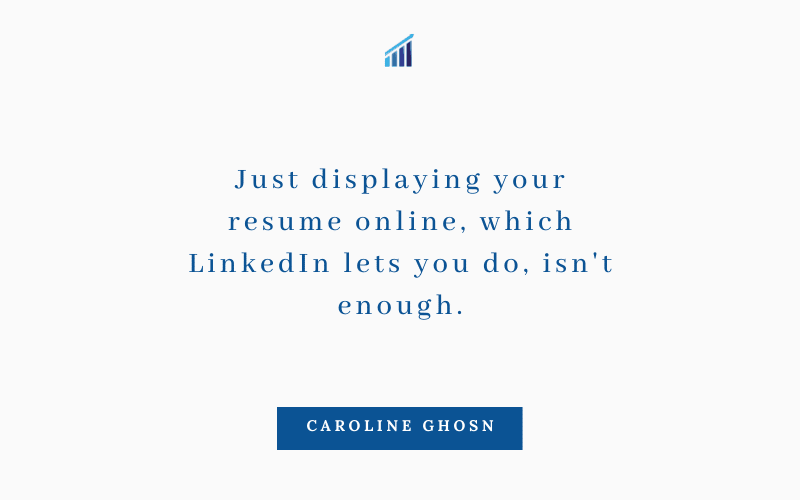 "Just displaying your resume online, which LinkedIn lets you do, isn't enough."
― Caroline Ghosn, Levo Founder
Be compelling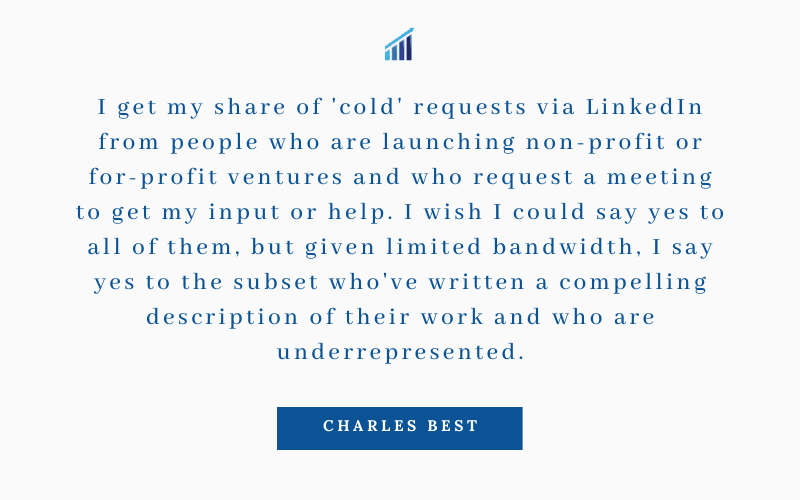 "I get my share of 'cold' requests via LinkedIn from people who are launching non-profit or for-profit ventures and who request a meeting to get my input or help. I wish I could say yes to all of them, but given limited bandwidth, I say yes to the subset who've written a compelling description of their work and who are underrepresented."
― Charles Best, Businessman
Interact. Reach out.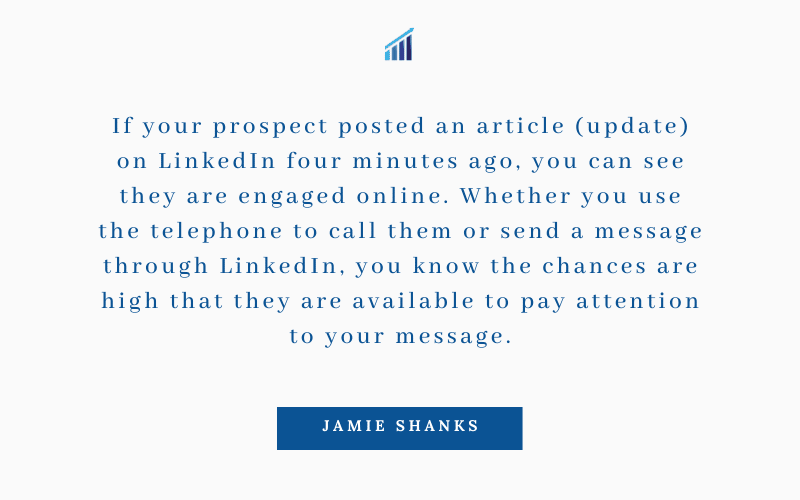 "If your prospect posted an article (update) on LinkedIn four minutes ago, you can see they are engaged online. Whether you use the telephone to call them or send a message through LinkedIn, you know the chances are high that they are available to pay attention to your message."
― Jamie Shanks, Managing Partner at Sales for Life
For more information on LinkedIn marketing, schedule a call with us or you can also watch this free webinar.